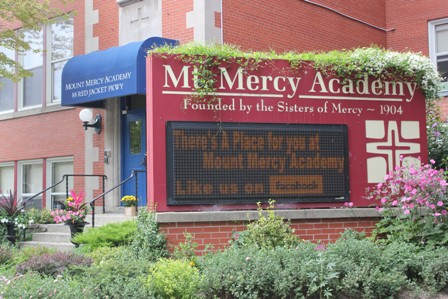 Welcome to Mount Mercy Academy's PlusPortal

The Portal provides an interface for teachers, parents and students to communicate, access grades, attendance and schedules. Click for video guides on navigating and using the system. ParentPlus and StudentPlus apps are available for your mobile devices. A link to the ParentPlus mobile app is available under School Resources.
Join us on our School Website: https://www.mtmercy.org
And remember, to ensure all Portal email reaches your Inbox and does not get blocked by your email provider, please add messenger@plusportals.com to your address book/contacts.
Thank You!
PARKING IN FRONT OF SCHOOL
RECENTLY, AT DISMISSAL TIME, A COLLISION OCCURRED BETWEEN A SCHOOL BUS AND AN AUTOMOBILE THAT WAS PARKED IN THE BUS LANE. NO CARS SHOULD BE PARKED ON RED JACKET ALONG THE SCHOOL BUILDING UNTIL AFTER 4:00 P.M. PARENTS WHO PICK UP STUDENTS AFTER SCHOOL PLEASE ALLOW 10 MINUTES FOR SCHOOL BUSES TO PARK, PICK UP STUDENTS AND LEAVE THE AREA BEFORE PULLING INTO THE BUS LANE. DO NOT ARRIVE UNTIL 2:55 P.M. BUFFALO PARKING ENFORCEMENT WILL BE PATROLLING RED JACKET PARKWAY FOR THE FORESEEABLE FUTURE.
Posted: 10-26-2017
New calendar dates for NHS Induction
NHS Induction Practice moved from 4/9/18, To: 4/11/18 at 2:50PM in the Mercy Center Chapel. NHS Induction Ceremony moved from 4/10/18, To: 4/12/18 at 7:00PM in the Mercy Center Chapel.
Posted: 09-13-2017